Capitalist Exploits INSIDER NEWSLETTER Review
Risk off investing for high returns

"If you think about tobacco, if you bought Tobacco in the 90's when they all figured out it causes cancer, you didn't have to do anything, you literally bought those things compounded the dividends and it was the best sector to own bar none, it beat Tech, it beat everything.
Tobacco, dirty, stinky, disgusting Tobacco. Now that's a big trend, so I am more concentrated on that."
"I'm more interested in preserving capital and making sure that I get those major trends right."
– Chris MacIntosh, Managing Partner Glenorchy Capital.
Chris MacIntosh is the Managing partner of Glenorchy Capital, fund managers for high net worth individuals. After working for many top tier investment banks, Chris left the corporate world and has since built and sold multiple million dollar businesses, built a VC firm allocating $35m into early stage ventures, been a full time trader, and now manages money full time.
In order to share the benefits of the research performed by his team at Glenorchy Capital to a wider audience Chris also founded an investor program called Capitalist Exploits Insider.
Capitalist Exploits Insider subscribers benefit from that research as the team seeks out the big trends that yield asymmetric returns in the range of 5X+
"It's no secret we are now in a new commodities super cycle. Our contention is that oil, gas, uranium, fertilizer, gold, silver, copper, and nickel to name a few are set to outperform."
"We recommended a basket of uranium plays to Insider members back in 2017. After going absolutely nowhere for a couple of years, our uranium positions are now up anywhere from 4x to 10x — and a whole bunch in between. Most are up 3-4x just in the last 12 months."
"Rather than buying what's popular, we prefer to buy what's out of favor (even hated) here at Capitalist Exploits."
If you are looking for the next "growth stock" that is going to "explode" in the next 3 weeks then look elsewhere, likewise given that Capitalist Exploits described NFTs as "modern day tulips" you won't be getting any advice on investing in them either!
However if you are interested in creating generational wealth by deep value investing over a long timeframe then a Capitalist Exploits Insider subscription is a no brainer.
You'll not just get advice on the energy sector but on a broad base of more than a dozen different sectors or themes, many of which are interrelated.
Take for example the current push to decarbonize the transport sector, this will result in unprecedented demand for copper, both for electric vehicles themselves and for the huge upgrades to electricity networks necessary in order to deliver that energy. 
The mining and natural resource sectors are ones in which Capitalist Exploits excel as their personal experience and large network of contacts around the world help keep them abreast of trends and developments.
Current turmoil in energy markets worldwide demonstrates that demand for fossil fuels is as strong as ever. However this is a sector that is fraught with risk for the ill informed investor, corporate and jurisdictional risks are both extremely high but if you wish to capitalize on the deep value that this sector provides then Capitalist Exploits have a focus on this sector also.
Apart from Chris MacIntosh key contributors to the Capitalist Exploits Insider Newsletter include: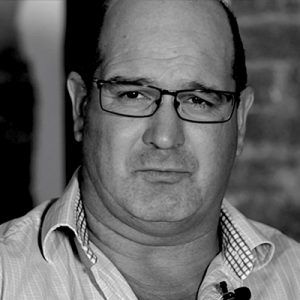 Head trader and private client fund manager, Brad's speciality is in identifying opportunities in extreme out of favour themes globally and executing strategies to achieve asymmetric payoffs.
The Vancouver-based financier with a hands-on background in the mining engineering industry.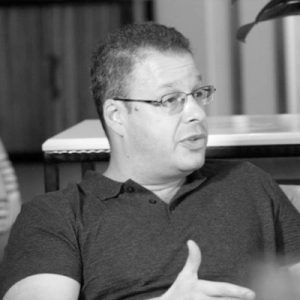 Renowned hedge fund manager & founder of Mongolia Growth Group, a company focused on strategic investments who recently re-opened his investment fund focused on macro opportunities globally.
So what do subscribers get?
To call Capitalist Exploits Insider a newsletter is selling it short, very, very short.
Of course as part of the sub you will receive the Insider Weekly newsletter which provides ongoing analysis and commentary about world events, trends and the Insider portfolio.
But the subscription is so much more than that.
On joining you will receive details of the current portfolio covering the themes or sectors they are invested in, with a basket of individual stocks / assets for each. This gives you the basis for having a broad based and well diversified portfolio.
The service offers 3 portfolios: the standard Insider portfolio, which is aimed at making capital gains over the medium- to long-term (5-10 years); a skinny version of the standard Insider portfolio that contains fewer positions and is for investors with less capital to invest (about USD 20k); and the dividend portfolio, focused on generating 10% in dividends per annum
They provide ongoing guidance, they tell you what they are doing with their money via trade alerts and share new investment ideas as and when they pass their due diligence and they decide to invest. You get access to all their research material so that you get a full understanding of the thought process behind every recommendation.
They provide educational material encouraging you to learn their long term wealth building investment strategy. They teach you how to identify and execute asymmetric risk/reward investments, regardless of sector, asset class, jurisdiction or investment vehicle.
A monthly live Q&A session gives all subscribers the chance to put forward their questions about investing – whether about the Insider program or their activities outside of the subscription, both Chris and Bradley are there each month to provide their thoughts and feedback.
Access to their private community forum which allows you to chat with fellow Insider members live. Members discuss the trades, help each other out, and organise in-person meetups throughout the world. This is the one feature that really blows my mind! How many newsletters do you know that are so confident in their abilities that they allow subscribers direct contact with one another so that they can discuss and dissect their every move?
The founders of Capitalist Exploits are themselves high net worth individuals and their recommendations are what they are investing their own money in. So these are not some snotty nosed analysts giving you buy, sell or hold recommendations with no direct interest other than to generate trades for their brokerage. You can be sure that this is very personal for them and their motivation is very much aligned with your own.
They offer all Capitalist Exploits Insider subscribers a 30 day no-quibble 100% money back guarantee. This gives you adequate time to access all of their research material and details of their current portfolio, it also gives you a chance to dive into the private community forum and enter discussion with existing subscribers, a huge number of whom have been there for multiple years. If after that you feel that the investing philosophy of Capitalist Exploits Insider is not for you then it's purely a matter of requesting a refund, no hard feelings and no explanation required.
A subscription of this calibre is not a small sum, but for the quality you receive I believe it represents outstanding value.
The excellent news is that we have been able to negotiate a deep discount on the normal Capitalist Exploits Insider subscription price and the even better news is that if you take up this offer you will lock in this price for the yearly subscription for as long as you remain a member.
For those not ready to commit to a yearly subscription at this time then there are a couple of alternatives for you.
Capitalist Exploits Insider Weekly will provide you with just the weekly newsletter that forms part of the full subscription, you can read more about it at the link below and take up the current offer of the first month's subscription for just $1! After the first month the price is $35 per month. You are free to cancel without notice at any time even before the first renewal.
You should in any case sign up for the free "Our World This Week" Newsletter from Capitalist Exploits which once a week, gives you unique investment ideas and Global macro analysis.
Please note: the links below are affiliate links, if you make a purchase invest4deepvalue.com will receive a commission, this does not affect the price you pay.
Our World This Week
NEWSLETTER
Just click below and submit your email.
INSIDER WEEKLY Newsletter
CAPITALIST EXPLOITS INSIDER
FULL SUBSCRIPTION
30 day no quibble money back guarantee.

Capitalist Exploits currently has a rating of 4.9 out of 5 on Trustpilot  based on 226 reviews, you can check out all reviews by clicking here.
 For a flavor of what people are saying here are a selection of recent reviews: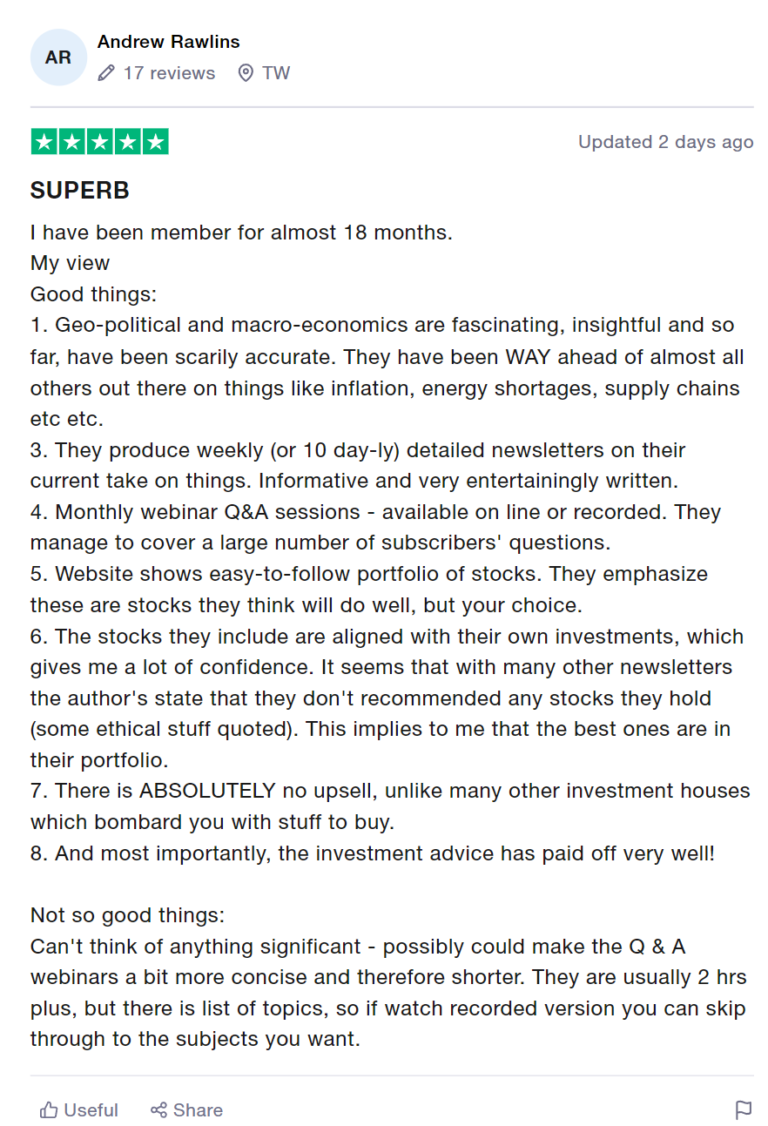 LEGAL DISCLAIMER
Terms and Conditions
Invest4deepvalue.com (I4DV) and its members, officers, directors, owners,  employees, agents, representatives, suppliers and service providers (collectively "I4DV") provides this website (the "Site") for informational purposes only.  Use of and access to the Site and the information, materials, services, and other content available on or through the Site ("Content") are subject to these terms of use and all applicable laws.

NO INVESTMENT ADVICE
The Content is for informational purposes only, you should not construe any such information or other material as legal, tax, investment, financial, or other advice. Nothing contained on our Site constitutes a solicitation, recommendation, endorsement, or offer by I4DV or any third party service provider to buy or sell any securities or other financial instruments in this or in in any other jurisdiction in which such solicitation or offer would be unlawful under the securities laws of such jurisdiction.
All Content on this site is information of a general nature and does not address the circumstances of any particular individual or entity. Nothing in the Site constitutes professional and/or financial advice, nor does any information on the Site constitute a comprehensive or complete statement of the matters discussed or the law relating thereto. I4DV is not a fiduciary by virtue of any person's use of or access to the Site or Content. You alone assume the sole responsibility of evaluating the merits and risks associated with the use of any information or other Content on the Site before making any decisions based on such information or other Content. In exchange for using the Site, you agree not to hold I4DV, its affiliates or any third party service provider liable for any possible claim for damages arising from any decision you make based on information or other Content made available to you through the Site.
INVESTMENT RISKS
There are risks associated with investing in securities. Investing in stocks, bonds, exchange traded funds, mutual funds, and money market funds involve risk of loss.  Loss of principal is possible. Some high risk investments may use leverage, which will accentuate gains & losses. Foreign investing involves special risks, including a greater volatility and political, economic and currency risks and differences in accounting methods.  A security's or a firm's past investment performance is not a guarantee or predictor of future investment performance.
THIRD PARTY LINKED SITES
As a convenience to you, I4DV may provide hyperlinks to web sites operated by third parties.  When you select these hyperlinks you will be leaving the I4DV site.  Because I4DV has no control over such sites or their content, I4DV is not responsible for the availability of such external sites or their content, and I4DV does not adopt, endorse or nor is responsible or liable for any such sites or content, including advertising, products or other materials, on or available through such sites or resources.  Other web sites may provide links to the Site or Content with or without our authorization.  I4DV does not endorse such sites and shall not be responsible or liable for any links from those sites to the Site or Content, or for any content, advertising, products or other materials available on or through such other sites, or any loss or damages incurred in connection therewith.  I4DV may, in its sole discretion, block links to the Site and Content without prior notice.
YOUR USE OF THIRD PARTY WEB SITES AND CONTENT, INCLUDING WITHOUT LIMITATION, YOUR USE OF ANY INFORMATION, DATA, ADVERTISING, PRODUCTS, OR OTHER MATERIALS ON OR AVAILABLE THROUGH SUCH WEB SITES, IS AT YOUR OWN RISK AND IS SUBJECT TO THEIR TERMS OF USE.
Cookie & Privacy Policy.
This website uses just one cookie which is necessary for it to function, no unnecessary cookies are employed.
This website does not collect any user data and does not track users in any way.
Please note: the links below are affiliate links, if you make a purchase invest4deepvalue.com will receive a commission, this does not affect the price you pay.
Our World This Week
NEWSLETTER
Just click below and submit your email.
INSIDER WEEKLY Newsletter
CAPITALIST EXPLOITS INSIDER
FULL SUBSCRIPTION
30 day no quibble money back guarantee.